Rugby club NSA
Sofia Sevens Internationa Tournament - 2010
Rugby Sports Club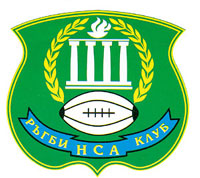 The Rugby Sports Club of NSA is founded in March 1959. This is the first club that officialy won a rugby competition in Bulgaria in 1959 and the city championship of Sofia.
It was disbanded in 1961 and reformed again in 1985.
The rugby team of HIPC (former NSA) is a winner of many medals of the national rugby championship. It was national champion and winner of the Bulgarian Rugby Cup in 2001 and 2004 (men) and 2003,2004 (women).




More information on the Rugby Club can be found here.