Volley-ball
Distinguished bulgarian volleyball coaches, graduates of NSA
Valentin Ankov
Teacher in NSA. Often refered to as the patriarch of the bulgarian volleyball.
Coach of the first bulgarian national volleyball team (men). At the first european volleyball championship in 1948 in Rome, Italy, his team wins the 4th place.

Dragomir Stoianov
A distinguished pedadogue of NSA and the bulgarian volleyball. Long time manager of the Bascketball, Volleyball and Handball Department. Participated in the national team when it reached its highest achievement on the european championship tournaments - 2nd place at the tournament in Paris in 1951.
DIMITAR
ZAHARIEV
A deserved master of the sport, teacher in NSA. Coach of the national team (men) in the 60s. In 1964 under his managing the national team went for the first time on the Olympic games (Tokyo) and wins the prize-winning 5-th place.
DIMITAR GIGOV
Long time teacher in NSA and coach of the national team. Awarded as coach of the century of Bulgaria. On the world championship in Sofia 1970 Bulgaria went through one of the most spectacular dramas in the history of bulgarian volleyball. In the final 5th game that will decide the world champion, Bulgaria leads East Germany with 13 to 5. But it seems that luck wasn`t with the bulgarian team as we lost with 14 to 16 and East Germany became the world champion. Bulgaria was never so close to winning the world championship.
As a coach of the national team D.Gigov has also other achievements: at the Olypmic games in Mexico in 1968 the team of Gigov places 6th, and for the tournament of the World Cup in Berlin in 1969 - 4th place. The youth national team wins the silver medals in Budapest in 1966 under the leadership of Gigov.



The Bulgarian national team - world vice-champion in 1970. Left to right: D.Karov, K.Metodiev,Tz.Pavlov, Al.Trenev, Zdr.Simeonov, St.Stoev, St.Kraichev, L.Stoianov, K.Slavov, Br.Iliev, D.Zlatanov, V.Simov.
Dimitar Karov and Dimitar Zlatanov are graduates of NSA and in this moment are probably two of the best volleyball players in the world (may be because volleyball is a team sport).


Associate proffesor, teacher for many years in NSA. Trained many masters and deserved masters of the volleyball sport. Writer of textbooks, manuals and other educational oriented books. In 1986 Bogdan Kiuchukov is chosen in the inquiry of the bulgarian journalists as on of the three best coaches along with Ivan Abadjiev and Neshka Robeva.

BOGDAN KIUCHUKOV
One of the symbols of the National Sports Academy! He has put his extraordinary competence and creative energy into one of the world elite sports, which has a fierce concurence worldwide.
A coach of the national volleyball team (men) for many years. Achievements:

- 1984. – Vice-champion - Clairermont Feront (France)
- 1985. – World Cup in Seul (South Korea) - IV place.

- 1986. – World championship in Paris (France) - III place
- 1995. – European championship in Athens (Greece) - IV place
- 1995. – Final on the World Ligue in Rio de Janeiro (Brazil) - IV place
- 1996. – Olympic games in Atlanta (USA) - VII place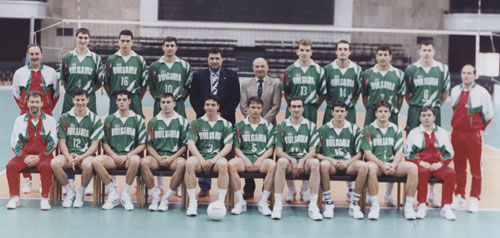 The national volleyball team, participant in the final round of the World Ligue in 1995 in Rio De Janeiro, Brazil. Coach - Bogdan Kiuchukov