Rugby
Rugby Sports Club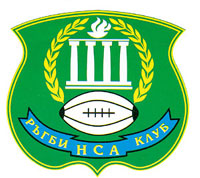 The Rugby Sports Club of NSA is founded in March 1959. This is the first club that officialy won a rugby competition in Bulgaria in 1959 and the city championship of Sofia.
It was disbanded in 1961 and reformed again in 1985.
The rugby team of HIPC (former NSA) is a winner of many medals of the national rugby championship. It was national champion and winner of the Bulgarian Rugby Cup in 2001 and 2004 (men) and 2003,2004 (women).




More information on the Rugby Club can be found here.


Representative teams of the NSA rugby club (Men and women) for 2005.

The NSA rugby team - men (2005)
First row (sitting), left to right: Konstantin Todorov, Ventzislav Raikovski, Svetlin Diankov, Aleksandar Tomanov, Mladen Mladenov, Stanislav Todorov, Mitko Kostov, Biser Mitov, Ivan Ivanov, Plamen Radev.
Second row (middle row), left to right - Trifon Kostadinov (Chief Coach), Tzvetan Tzvetanov, Liubomir Krushkin, Denislav Tzvetanov, Asen Asenov, Toma Partanakov (capitan), Nikolai Cholakov, Danail Andreev, Galin Ionev, Konstantin Gugushev (doctor).
Third Row, left to right: Petar Aleksov, Kalin Cholov, Ariel Ilieff, Momchil Kamburov, Svetoslav Machkov, Martin Mandaleki, Asparuh Asparuhov, Georgi Georgiev, Nikolai Valchev.

The NSA rugby team - women (2005)
First Row (Sitting) left to right - Julia Kechedjieva, Ekaterina Boeva, Maia Tzankova, Teodora Georgieva, Galia Pancheva, Natalia Ladjova, Valentina Veleva, Tzanka Ladjova.
Second Row (Standing) : Miglena Iankova, Stefka Atanasova, Stanislava Duleva, Pavel Velkov (Chief Coach), Ilona Mancheva, Nela Koleva (Coach), Vesselina Anakieva.
Отборът по ръгби на НСА - жени (2005 г.)

Constitutor of the international rugby tournament "Sofia Seven" in 1995.
Winner of the tournament in 1997, 1998, 1991, 2000, 2001.
Participant and semi-finalist in the International rugby tournament "Benidorm Sevens" - Spain in 1995, 1997, 1999, 2001, 2003.
Won the third place of the Second European university rugby championship in Montpellier, France , 2001.

Constitutors and members of the Manager`s Council of the Rugby Sports Club : Nikolai Kolef, Trifon Kostadinov, Stoian Mihailov, Dimitar Manolov, Ivan Ivanov.
Coaches:
Men:
Dimitar Kontohov 1959 -1961.
Nikolai Kolev 1985-1995.
Pavel Velkov 1996 -2000.
Liubomir Krushkin 2001-2003 / 2004.
Dimitar Dimitrov 2003-2004.
Trifon Kostadinov - since 2004.
Women :
Nikolai Kolev 1999- 2000.
Pavel Velkov - since 2002.
Teenagers and children :
Dimitar Manolov
Stoian Mihailov
Konstantin Dimitrov
Vesselin Stoianov
Radoslav Ivanov
Tzvetan Tzvetanov
Aleksandar Petrov
Svetlan Simov
Toma Partanakov
Sergei Dimov
You can visit the club`s site for more information on this address : http://nsarugbyclub.hit.bg/